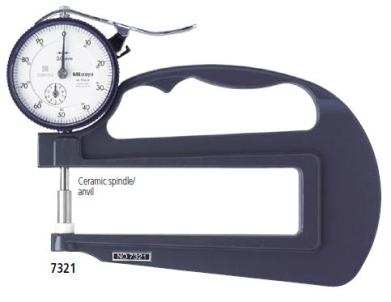 THICKNESS GAUGE
Code: 13009
Description: THICKNESS GAUGE
Thickness gauge is a high precision gauge used for checking: Films, Foil thickness, Rubbers, Felts, Paper, Plastic, Leathers, etc.,
It has a lifting lever type, or push type mechanism. Analog Range: 10mm, Frame depth 50mm, Reading : 0.1mm or 0.01mm
Frame depth 120mm
Frame depth 280mm
Large LCD display, Battery operated, With least count of 0.01 /0.001
Values can be displayed in either microns or inches.
Digital Gauge Range: 10mm x 0.01/ 0.001mm.
Gauges with Mitutoyo and Baker make dials also available.